Ways To Design The Perfect Pool Area With High-Quality Synthetic Grass In San Marcos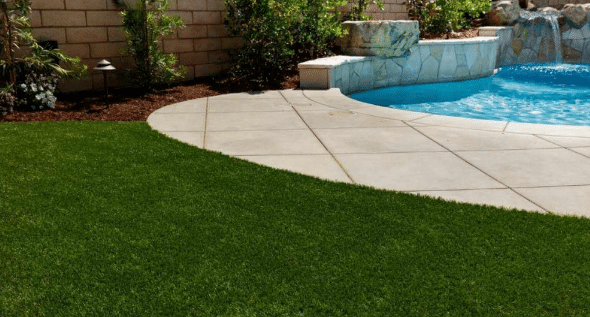 Artificial grass provides the perfect outdoor space for pool areas, with its heavy-duty materials and soft textures. Here are seven tips on how to design a stunning pool area that you'll be sure to love:
Artificial turf has come a long way in terms of quality, and there are many different types available to choose from. Consider the texture, color, and thickness of the turf to make sure it complements your pool area perfectly without fading or looking too fake.
Make sure that any water that accumulates around your pool is directed away quickly and efficiently by installing an appropriate drainage system beneath your synthetic grass. This helps preserve the integrity of your artificial lawn while ensuring that no water is left to stagnate.
For a more natural look, think about edging your pool area with stones or rocks. Doing so will give it that extra bit of charm and definition while also helping to contain any water spillage from the pool itself.
Add an extra layer of sophistication by incorporating a pathway made of wood-effect composite decking or attractive paving stones around the pool area for guests to walk on. This helps protect grassed areas from getting wet or dirty and provides easy access for everyone to get in and out of the pool safely too.
When selecting outdoor furniture for your pool area, opt for pieces that are designed for use in direct sunlight, such as those made of recycled plastic or hardwood. This ensures they'll last longer and won't fade in the sun.
Artificial grass doesn't have to be the only feature in your pool area; you can also create a lush oasis by adding plants, trees, and shrubbery around the edges or as a backdrop. This adds texture and color to your pool area while also providing plenty of shade on hot days.
Installing outdoor lighting is one of the best ways to transform your artificial turf into an inviting space at night too! Choose fixtures that cast a gentle glow and focus on certain areas such as pathways, steps and seating areas for a truly calming atmosphere.
FAQ's
Is Artificial Grass Good Around A Pool?
Yes, it's a great choice for pool areas as it provides a soft and comfortable surface that will cope with heavy foot traffic. It also doesn't fade in the sun or become slippery when wet.
What Type Of Grass Is Best Around A Pool?
The type of grass you choose should depend on the look and feel you're after. Generally, it's best to opt for a mid-pile turf as this is more durable and can cope with heavy foot traffic.
Do I Need Drainage In My Pool Area?
Yes, it's important to install a good drainage system beneath your artificial grass so that any water accumulates quickly and doesn't stagnate. This will help keep your pool area looking its best for longer.
Conclusion
It is easy to transform a pool area into an inviting and visually appealing space with the help of artificial grass. With just a few small changes like edging, lighting, and appropriate drainage systems in place, you can create a luxurious outdoor living space that you'll be sure to love spending time in. For more information, contact Artificial Grass San Marcos at (760) 313-6366.